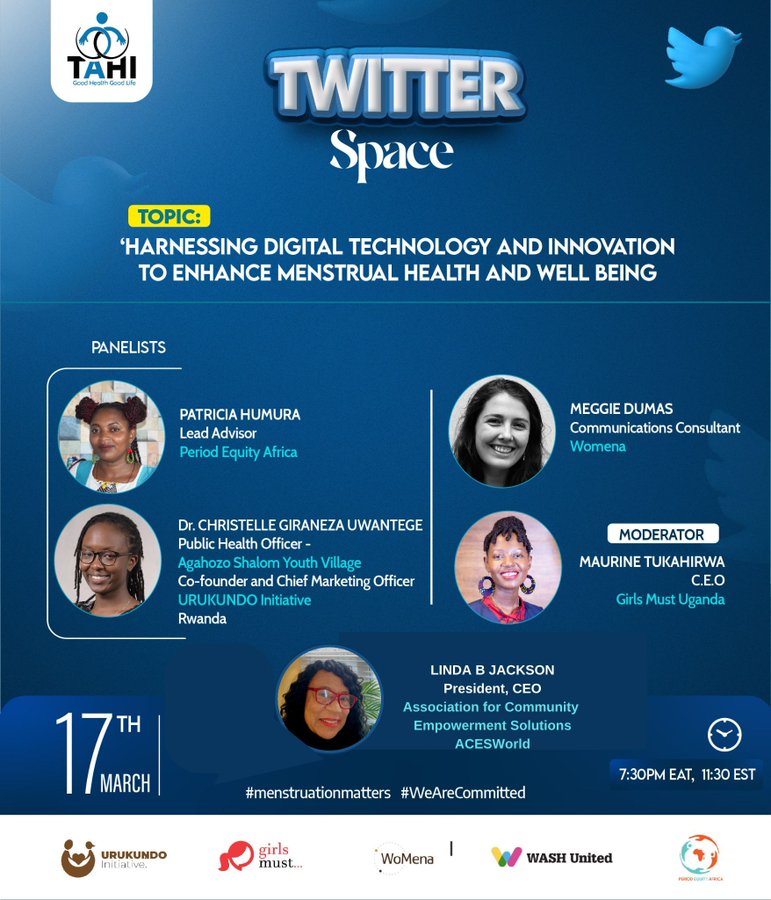 On March 17th, 2023, we hosted a Twitter Space in commemoration of International Women's Day under the theme, "Harnessing digital technology and innovation to enhance menstrual health and wellbeing." The event was graced by notable and influential menstrual health (MH) actors and researchers, including Patricia Humura, Lead Advisor – Period Equity Africa; Dr. Christelle Giraneza Uwantege, Public Health Officer – Agahozo Shalom Youth Village; Linda B Jackson, President – Association for Community Empowerment Solutions (ACESWorld); and Meggie Dumas, Communications Consultant – Womena. The event was moderated by Maurine Tukahirwa, CEO Girls Must Uganda.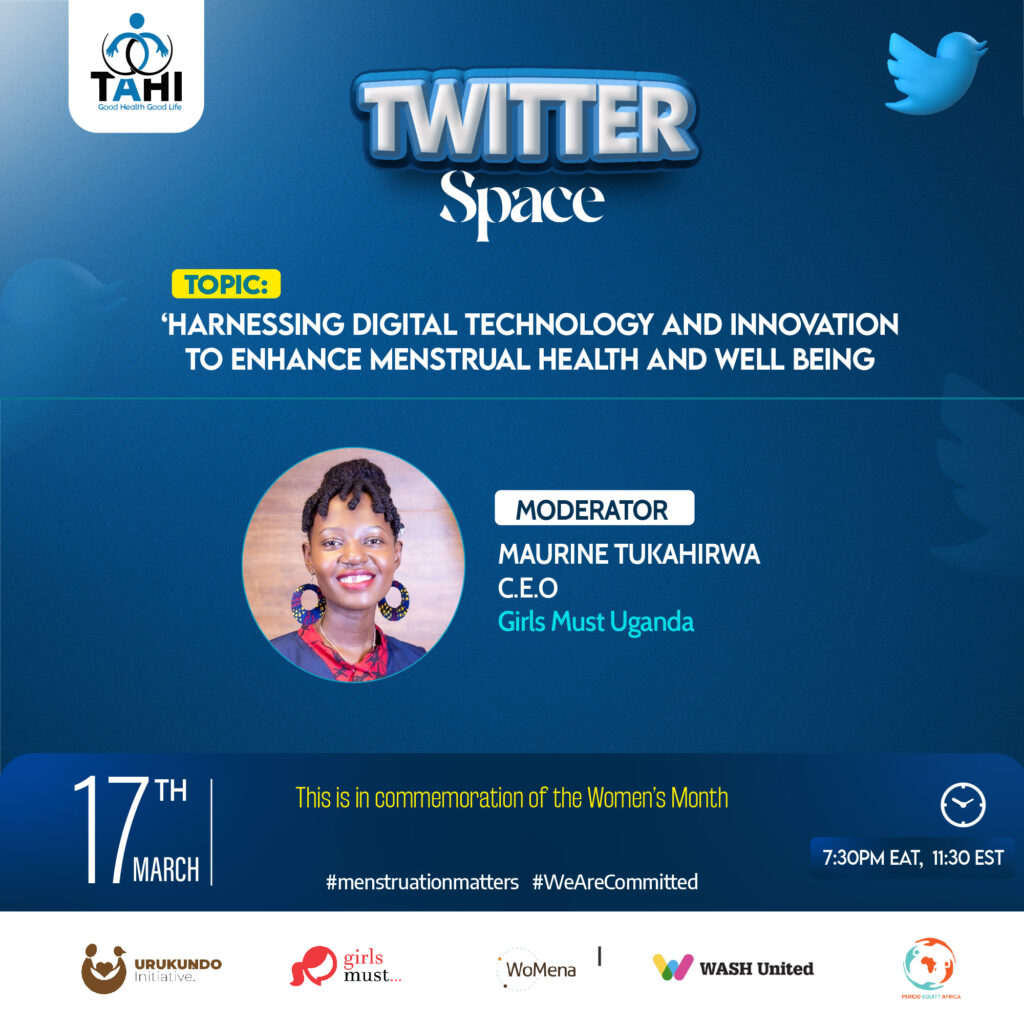 The speakers discussed several key issues, including the barriers to technology among women and girls, the different digital resources and menstrual products, and their impact on improving menstrual health, and the ethical issues associated with digital technology and menstrual health.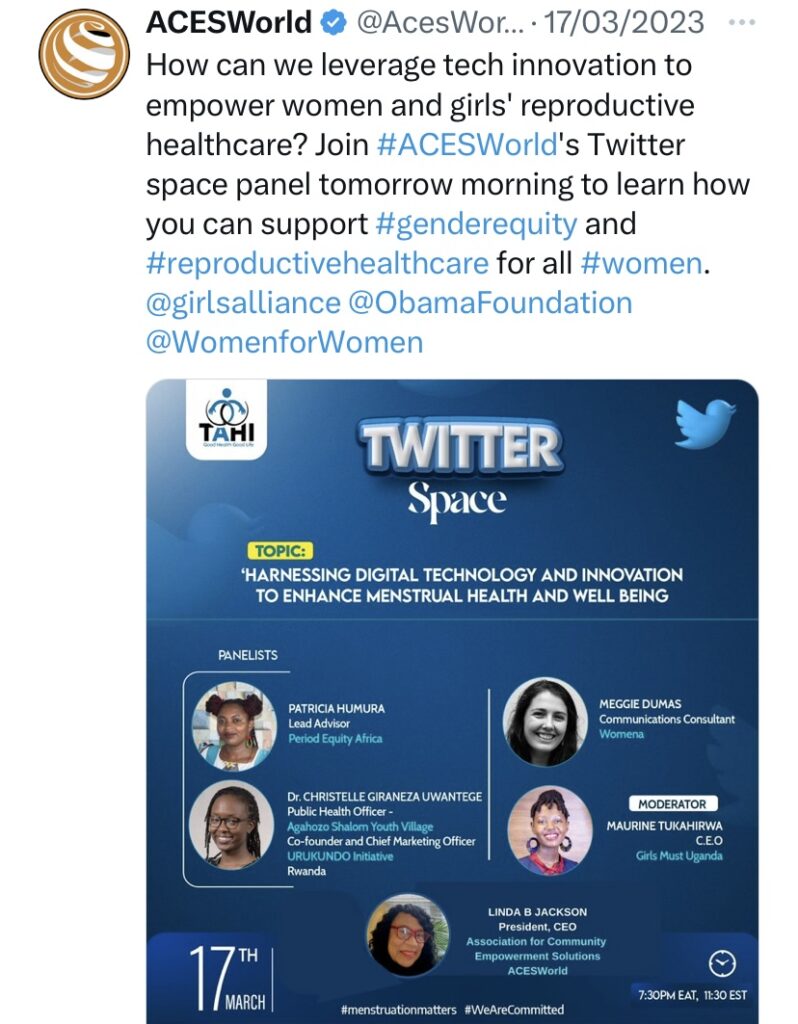 Linda Jackson shared her experiences working with ACESWorld's Ask 4 Her program, which focuses on life skills and menstrual health in several countries, including Columbia, Ghana, Uganda, and Malawi. She emphasized the importance of engaging in conversations about electricity and gadgets in communities to address the gender digital divide. The Ask 4 Her program uses baseline surveys to create solutions based on technology to help girls manage their periods with ease. Linda made several recommendations, including the need to protect girls' privacy, using innovative technology to collect data, leveraging technology to improve menstrual health, and being responsive to the data collected.
Dr. Christelle Giraneza shared her work in Rwanda, using digital technology to enhance menstrual health. She noted that menstrual health education is lacking among many girls and women, and they do not have adequate knowledge about the diverse menstrual health products available. Dr. Christelle highlighted the innovation of the Urukundo skills board room, which uses a question-and-answer board game to help young people talk about menstruation openly and freely in a friendly manner. She also stressed the need to extend menstrual health and hygiene education to people in rural areas and provide them with digital tools to guide them.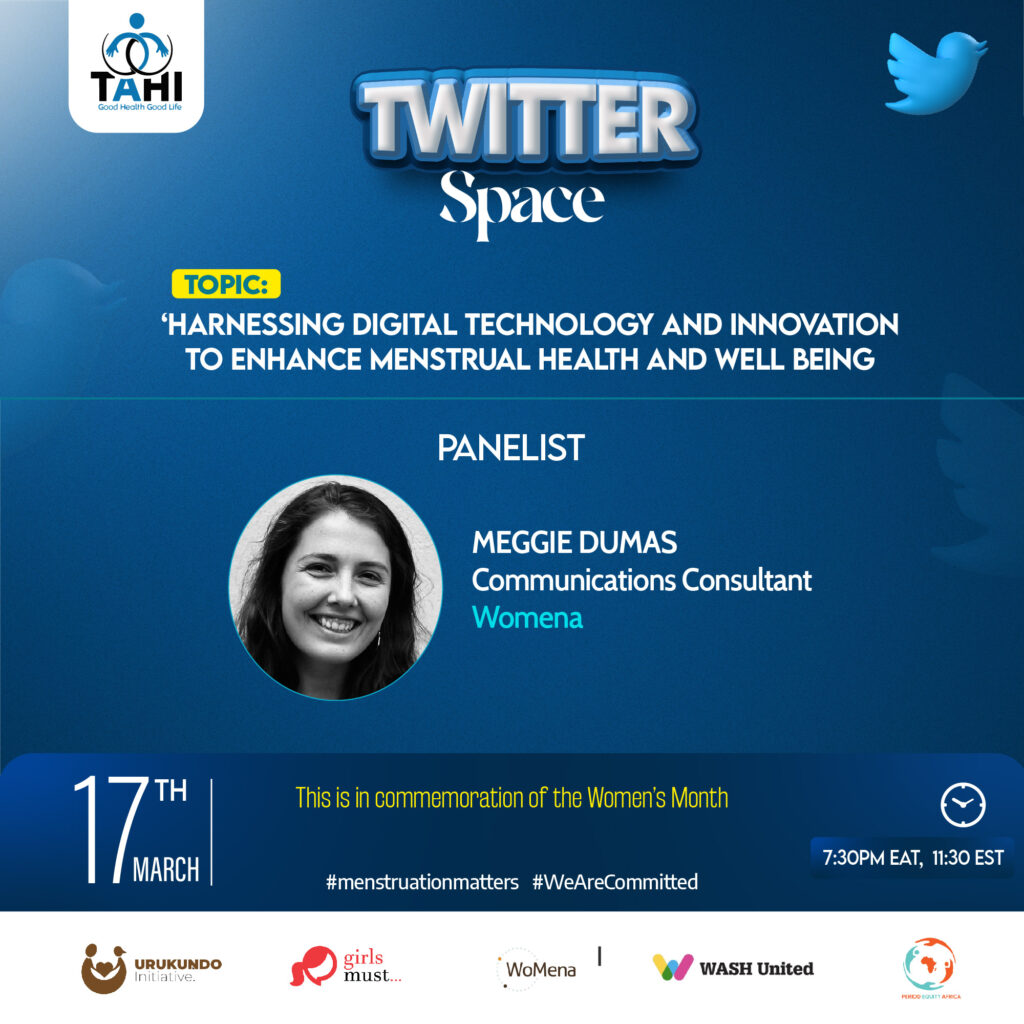 Meggie Dumas discussed the role of research in enhancing menstrual health and the efficacy of various menstrual innovative products. She noted that menstrual cups are safe, require less water, offer an opportunity to understand one's body better, and protect the environment. However, menstrual cups are not widely used, possibly due to their high cost. Meggie suggested ensuring menstrual products are accessible and affordable in the market, working with governments to reduce costs, and using the internet to address myths and misconceptions about menstrual health.
Patricia Humura discussed the ethical issues associated with digital technology and menstrual health. She emphasized that innovators and manufacturers should engage with the community while creating tools that are user-friendly to the communities where they are being implemented. Additionally, respecting the users of the menstrual health tools, seeking consent from the people involved, and being considerate of confidentiality were essential in MH technology. Patricia also highlighted how menstrual health tools and applications help track menstruation, which helps to manage menstruation effectively.
In conclusion, Maurine Tukahirwa emphasized the need for governments to increase resources for girls in marginalized communities to improve access to menstrual health products and digital technology.
Overall, the Twitter Space was a success, with insightful discussions on various topics surrounding menstrual health and digital technology. The event provided valuable insights into the challenges, opportunities, and innovations in the menstrual health field, laying the foundation for more robust and inclusive initiatives to promote menstrual health and well-being for all.
A link to the recording can be found here https://twitter.com/i/spaces/1LyGBqElLEkKN